When it comes to productivity, two screens are better than one. It may seem that facing multiple screens while working can be distracting, but studies show that having dual monitors increases your efficiency by around 42 percent. You will no longer have to toggle between tabs and windows, giving you more time to complete the task. An additional display also allows for better multitasking since you can view different things at once.
But while having an extra display is ideal, buying an additional monitor can be expensive. Not to mention, you can't exactly tote it around anywhere. Luckily, the

TRIO from Mobile Pixels

, an external laptop display attachment

(ordering through this link and the links below benefits Gateway Pundit) is specifically developed to offer a multi-screen advantage to your laptop.
It has not only one but two displays that you can attach to your computer, giving you a multi-screen setup instantly.
TRENDING: WATCH JOE BIDEN IN SLOW MOTION — Witness the Full-On Glassy-Eyed Dementia Up Close and Personal — MUST SEE VIDEO
Designed to boost productivity and easy multitasking, the TRIO, which has garnered over a million in funding on Indiegogo,
delivers additional displays on the go
. Created for working professionals, gamers, stock traders, entrepreneurs, coders, and students, it makes your laptop a multi-screen computer in a snap, and all you have to do is plug it in. It also only uses a single cable for both power and data, and it's compatible with any Mac, Linux, Chrome, and Android devices via USB connection.
If you're sensitive to light, you can easily adjust the brightness of the screens to what you can tolerate. You can also use it for presenting reports, as it lets you choose your optimum viewing angle for any situation with the full 270-degree rotation. Verified purchaser Anthony L. has nothing but good words for the TRIO, writing: "Great portable screens. Easy to mount. Connects right away. The extra bulk is acceptable and worth having the extra screen size."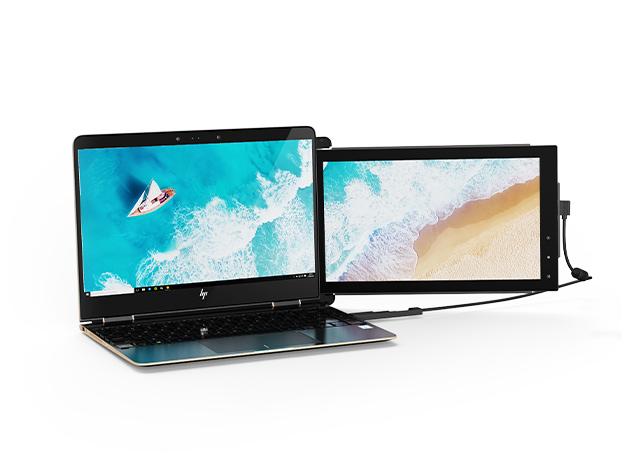 Prices subject to change.
stackSonar('stack-connect-a', '10674');